GRATEX 3 HSSCo
Working process of the GN-Gratex® III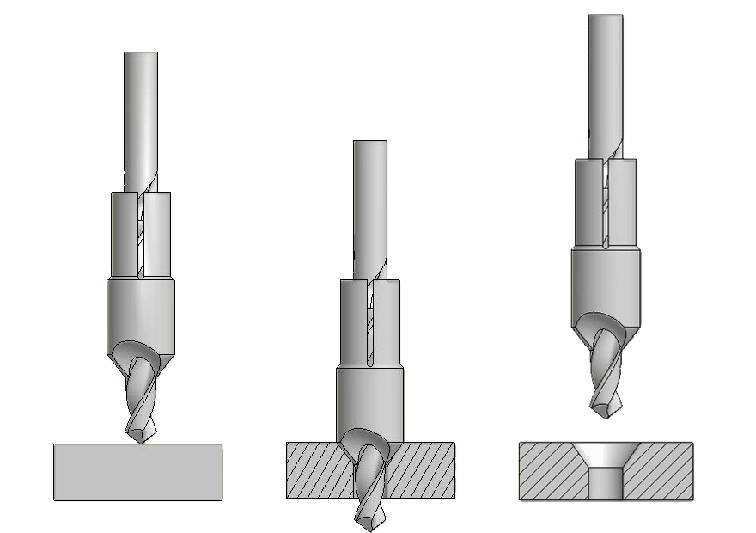 GN-Gratex® III for spiral drills for burring and chamfering
The GN-Gratex III is the subsequent development of the approved GN-Gratex II. By its design, it can be set-up into a collet in combination with any common drill. Due to the cylindrical geometries an ideal torque transmission and optimal concentricity is achieved.
Cost-effective alternative
Using a GN Gratex III you can get the same results as using extra chamfer tools or step drills. Because of its flexibility, the GN Gratex III makes a cost-effective alternative.
Great flexibility
The GN-Gratex III has small dimensions. Thus it can be used without any problems even in extremely constricted situations. It can easily be adjusted to any specific machining tasks and ensures good chip removal.
High cutting performance and tool life
The GN-Gratex III is made out of HSSCo with a 5% cobalt content. For critical applications it is possible to apply a coating for even longer tool life and performance.
The GN-Gratex III can also be used in machines with thru spindle coolant systems. The GN-Gratex III is designed for spiral drills of type N. The use in combination with other types is restricted. By default the chamfer has an angle of 90°.
If required, other angles can be made. If there are any questions,
Mounting of GN-Gratex® III
When inserting the spiral drill into the GN-Gratex III-tool, make sure that the cutting edges of the GN-Gratex III just butt against the chamfers on the back of the spiral drill. Fixation and adjustments of the drill and GN-Gratex III are made in one set-up in the collet. Because the dimensions of a drill's back end aren't standardized, the GN-Gratex III may not fit on every brand of drills. In this case the arbor hole of the GN-Gratex III should be reground to adapt to the drill's diameter.