Welcome to Neuhäuser
For more than 100 years, Neuhäuser
Präzisionswerkzeuge GmbH/Neuhäuser Precision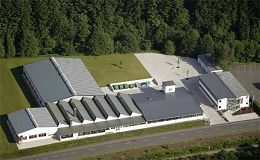 Cutting Tools has been developing high precision
standard and special tools of the highest quality
for machining in various industrial sectors.
As a globally reputable manufacturer of special tools, we would like to assist you in optimizing
your production processes with our
comprehensive know-how – as your partner and supplier.
Latest News
Neuhäuser introduces new Tools for the Machining of Composite Lightweight Panels

For the upcoming JEC Europe 2014 in Paris Controx-Neuhäuser introduces two new standard tools for the machining of composite lightweight panels.

With the PANEL CUT and the DECORING CUT they offer their customers a complete solution for the machining of panels.
The PANEL CUT is specially designed for drilling and profiling operations of sandwich panels without the common issues of delamination on the skins or flagging of the honeycomb in between. The outstanding advantage of the PANEL CUT is the possibility of extremely high feedrates while still realizing clean surface finishes.
The DECORING CUT is the ideal solution for undercutting or decoring of panels. In one step it is possible to first drill the hole and then undercut the panel skins without a tool change. Thereby the DECORING CUT removes and pulverizes the material instead of just compressing it.

Both tools will be shown at Neuhäuser's booth R48 in pavilion 7.3 at the JEC show in Paris from March 11-13, 2014 and will be available from stock in different dimensions afterwards.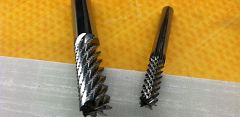 Tradeshows 2014
JEC EUROPE March 11-13, 2014 in Paris
Visit us!
Pavilion 7.3, Booth R48




Composites Manufacturing April 8-10, 2014 Northern Kentucky Convention Center
Visit us!
Booth 605

Aircraft Interiors Expo April 8-10, 2014, Hamburg
Visit us!
Hall B1, Booth 1E41




AMB September 16-20, 2014 in Stuttgart, Germany
Visit us!
Hall 1, Booth 1G52

CAMX October 14-16, 2014 in Orlando, Florida
Visit us!
Booth 3867



Special tools
| | | |
| --- | --- | --- |
| | | In our modern and extremely flexible production center in Prüm, Germany, we manufacture special precision tools on your demand in a range from single pieces up to mass production. |
Standard tools
| | | |
| --- | --- | --- |
| | | Our standard product portfolio is presented in our two tool catalogues. Please note the detailed technical information and data sheets, which also contain the specifications of the tools and recommendations for their application. |
Composite tools
| | | |
| --- | --- | --- |
| | | The Neuhäuser Präzisionswerkzeuge GmbH has developed a wide range of special tools to match the challenging requirements of composite machining and to provide solutions for their specific demands. |
© Neuhäuser Präzisionswerkzeuge GmbH · Prümtalstraße 40 · 54595 Prüm
Tel.: +49 (0)6551 9523-0 · Fax: +49 (0)6551 9523-22 ·
info@neuhaeuser-controx.de