Welcome to Neuhäuser
For more than 100 years, Neuhäuser
Präzisionswerkzeuge GmbH/Neuhäuser Precision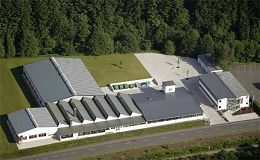 Cutting Tools has been developing high precision
standard and special tools of the highest quality
for machining in various industrial sectors.
As a globally reputable manufacturer of special tools, we would like to assist you in optimizing
your production processes with our
comprehensive know-how – as your partner and supplier.
Latest News
CamX Composite Show
October 14-16, 2015, Orlando, Florida, USA
This year Controx-Neuhäuser exhibited at the 2014 CamX Composite Show in Orlando, Florida, which took place from October 14-16, 2014. This was the first annual CamX Composite Show and was a joint venture between the ACMA and Sampe organizations. Several current customers of Controx-Neuhäuser were at the show both as visitors and as exhibitors. We were able to display our unique and innovative tooling for guests of the CamX. We were welcomed with several new contacts and opportunities.

Controx-Neuhäuser looks forward to the 2015 CamX Composite Show from October 27-29, 2015 at the Dallas Convention Center in Dallas, Texas.

Tradeshows 2014
AMB China, October 13-15, 2014 in Nanjing, China
Visit us!
Hall F, Booth C2-5

CAMX, October 14-16, 2014 in Orlando, Florida
Visit us!
Booth 3867

National Industrial Fastener & Mill Supply Expo, October 22-24, 2014 in Las Vegas, Nevada
Visit us!
Booth #137



Special tools
| | | |
| --- | --- | --- |
| | | In our modern and extremely flexible production center in Prüm, Germany, we manufacture special precision tools on your demand in a range from single pieces up to mass production. |
Standard tools
| | | |
| --- | --- | --- |
| | | Our standard product portfolio is presented in our two tool catalogues. Please note the detailed technical information and data sheets, which also contain the specifications of the tools and recommendations for their application. |
Composite tools
| | | |
| --- | --- | --- |
| | | The Neuhäuser Präzisionswerkzeuge GmbH has developed a wide range of special tools to match the challenging requirements of composite machining and to provide solutions for their specific demands. |
© Neuhäuser Präzisionswerkzeuge GmbH · Prümtalstraße 40 · 54595 Prüm
Tel.: +49 (0)6551 9523-0 · Fax: +49 (0)6551 9523-22 ·
info@neuhaeuser-controx.de