Welcome to Neuhäuser
For more than 100 years, Neuhäuser
Präzisionswerkzeuge GmbH/Neuhäuser Precision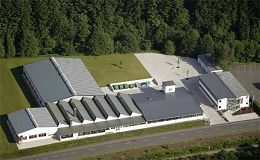 Cutting Tools has been developing high precision
standard and special tools of the highest quality
for machining in various industrial sectors.
As a globally reputable manufacturer of special tools, we would like to assist you in optimizing
your production processes with our
comprehensive know-how – as your partner and supplier.
Latest News
CamX Composite Show
October 14-16, 2015, Orlando, Florida, USA
This year Controx-Neuhäuser exhibited at the 2014 CamX Composite Show in Orlando, Florida, which took place from October 14-16, 2014. This was the first annual CamX Composite Show and was a joint venture between the ACMA and Sampe organizations. Several current customers of Controx-Neuhäuser were at the show both as visitors and as exhibitors. We were able to display our unique and innovative tooling for guests of the CamX. We were welcomed with several new contacts and opportunities.

Controx-Neuhäuser looks forward to the 2015 CamX Composite Show from October 27-29, 2015 at the Dallas Convention Center in Dallas, Texas.
AMB China
October 13-15, 2014, Nanjing
For the first time the Neuhäuser Präzisionswerkzeuge GmbH took part as an exhibitor at the AMB China - China Metal Working & Forming Exhibition at the Nanjing International Expo Centre. 257 exhibitors presented a large number of new products, innovative machines and further developments to about 11.000 visitors. With eleven other exhibitors Neuhäuser was presented in the German Pavilion under the "Made in Germany" banner.
Despite the modest number of visitors, the AMB China was a success for Neuhäuser. First contacts to promising sales partners in China could be made and there were some interesting inquiries from potential customers. By intensifying these contacts Neuhäuser aims on a successful positioning in the Chinese market.


AMB Stuttgart, Germany
September 16-20, 2014
This year, the AMB tool show in Stuttgart, Germany, took place from September, 16-20, 2014. Fully booked with 1.356 exhibitors, a new record of more than 90.000 visitors and an enhanced international character this AMB had a very successful result. This helped the show to secure its place among the top five industry trade fairs worldwide.
Neuhäuser used the opportunity to present itself to a wide audience. Partner, suppliers, existing customers and many interesting contacts visited the Neuhäuser booth. The enhanced international character was noticeable here – one third of the leads came from abroad.


Tradeshows 2015
JEC Europe Composites Show, March 10-12, 2015 in Paris, France

Visit us! Pavilion 7.3, Booth R63

PMTS 2015, April 21-23, 2015 in Columbus, Ohio

Visit us! Booth #1037

International Paris Air Show, June 15-21, 2015, Le Bourget Parc des Expositions, Paris, France

Visit us!

CAMX 2015, October 27-29, 2015 in Dallas, Texas

Visit us!



Special tools
| | | |
| --- | --- | --- |
| | | In our modern and extremely flexible production center in Prüm, Germany, we manufacture special precision tools on your demand in a range from single pieces up to mass production. |
Standard tools
| | | |
| --- | --- | --- |
| | | Our standard product portfolio is presented in our two tool catalogues. Please note the detailed technical information and data sheets, which also contain the specifications of the tools and recommendations for their application. |
Composite tools
| | | |
| --- | --- | --- |
| | | The Neuhäuser Präzisionswerkzeuge GmbH has developed a wide range of special tools to match the challenging requirements of composite machining and to provide solutions for their specific demands. |
© Neuhäuser Präzisionswerkzeuge GmbH · Prümtalstraße 40 · 54595 Prüm
Tel.: +49 (0)6551 9523-0 · Fax: +49 (0)6551 9523-22 ·
info@neuhaeuser-controx.de