Welcome to Neuhäuser
For more than 100 years, Neuhäuser
Präzisionswerkzeuge GmbH/Neuhäuser Precision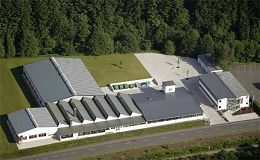 Cutting Tools has been developing high precision
standard and special tools of the highest quality
for machining in various industrial sectors.
As a globally reputable manufacturer of special tools, we would like to assist you in optimizing your
production processes with our comprehensive
know-how – as your partner and supplier.
Latest-News
Foam Cut

The FOAM CUT tools are designed to machine solid foams and foam potted honeycombs. With their ballnose the FOAM CUT tools are perfect for a filigreed machining on five-axis machines. Because of an aggressive toothing and big chip space the tools reach a good finish surface beside a high performance.

All FOAM CUT tools are made out of HSS Cobalt Powdered Metal (PM). Additionally, performance and tool life is increased using an appropriate coating: A patented coating for wear protection and to prevent sticking as well.
Profile Cut

The PROFILE CUT tools are specially designed for the profiling of complicated honeycomb parts and structures whereby plunging into the material is possible because of the center cutting end teeth. This tool is also available with ballnose to facilitate a smooth radius. With their combination of radial - and axial teeth the PROFILE CUT´s are optimized for the application on 3-achsis machines which only allow a tilted spindle head in no or in one direction. Of course they can also be used on five-axis milling centers.

All PROFILE CUT tools are made out of high quality solid carbide. If necessary, they can optionally be coated with our patented coating.
Special tools
| | | |
| --- | --- | --- |
| | | In our modern and extremely flexible production center in Prüm, Germany, we manufacture special precision tools on your demand in a range from single pieces up to mass production. |
Standard tools
| | | |
| --- | --- | --- |
| | | Our standard product portfolio is presented in our two tool catalogues. Please note the detailed technical information and data sheets, which also contain the specifications of the tools and recommendations for their application. |
Composite tools
| | | |
| --- | --- | --- |
| | | The Neuhäuser Präzisionswerkzeuge GmbH has developed a wide range of special tools to match the challenging requirements of composite machining and to provide solutions for their specific demands. |
© Neuhäuser Präzisionswerkzeuge GmbH · Prümtalstraße 40 · 54595 Prüm
Tel.: +49 (0)6551 9523-0 · Fax: +49 (0)6551 9523-22 ·
info@neuhaeuser-controx.de